Hey fellow E15'ers! In case we have not met yet, Hello!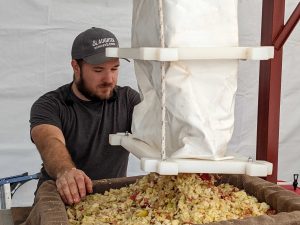 The name is Zack McIntosh, current Business Intelligence Analyst and soon-to-be Data Engineer on the Data Services team.

While the winter winds may be blowing, the orchards of my family farm are still in full swing. Me and my partners are in Chicago this week for CiderCon 2023, a conference about everything hard cider.
Unfortunately, we don't have hard cider to share just yet, but the next best thing is the unfermented variety! Now, I know what you are thinking. "But wait, it's January/February. Who drinks apple cider in the dead of winter?" Well, let me tell you, my friends, this is not just any apple cider. This is the good stuff.
Here's what you need to know about this sweet and tangy treat. I'd recommend warming it up, or drink it chilled, the choice is yours.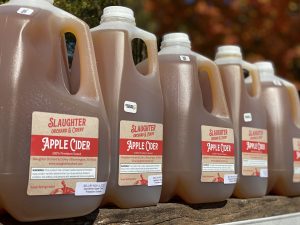 It's not just a seasonal drink. Apple cider is perfect all year round, no matter the weather outside.

Warm it up and it's like a hug in a mug, but even better. Sip it on a chilly January day and you'll feel like you're wrapped in a warm blanket.

It's the perfect pick-me-up. Whether you need a caffeine-free boost or just a little something sweet, this cider has got your back.

It pairs well with your favorite spirit too! Just search the interwebs to find a great recipe or reference our own recipe HERE.
So, what do you say? Are you ready to beat the winter blues with a taste of the farm? Enjoy the gallon of cider while it lasts. Cheers to beating the winter cold with a warm cup of apple cider!
Feel free to message me on Teams! I'm happy to chat and answer any questions.