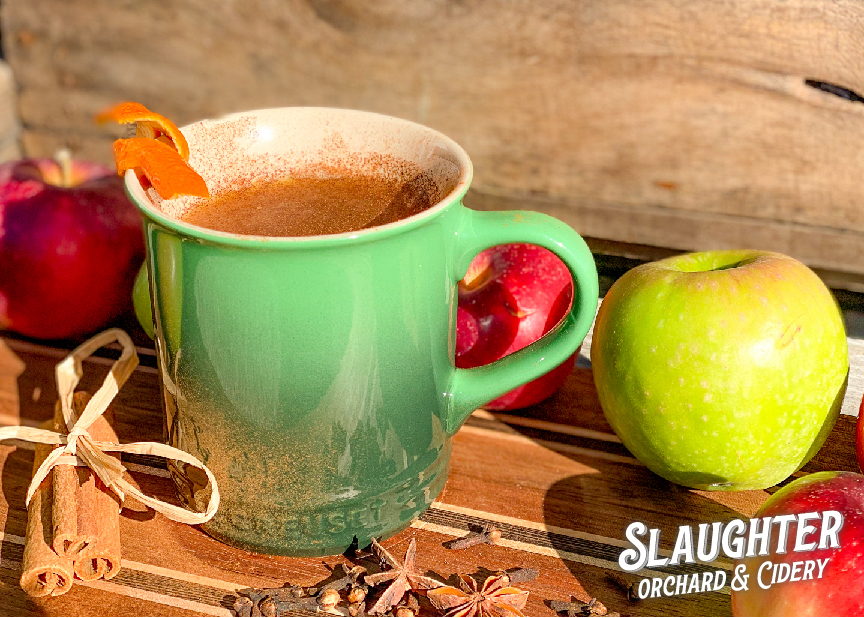 Apple Cocktails (You didn't think we would give you just one did you?!?)
Cider Old Fashioned
Ingredients
1/2 C ice. This drink works great with a large block of ice, but any quality ice will work fine.
1 C fresh pressed unpasteurized cider
2 ounces whiskey
2 dashes Angostura bitters
apple slices for garnish
cinnamon sticks for garnish
Combine all the ingredients in a glass of your choosing. Garnish with apple slices and cinnamon sticks.
Hot Mulled Cider (Spiked or Not)
Ingredients
8 C fresh pressed unpasteurized cider (half-gallon)
1 orange – juiced and sliced into rounds
2 Cinnamon Sticks (or 1 teaspoon of ground cinnamon) – Adjust the cinnamon to taste!
8 Whole Clove
2 Star Annise
Bourbon
Steps
Combine all of the ingredients except the bourbon, and bring to a boil. Simmer for 10 minutes or until your home smells amazing.
Remove from heat and strain the cider mix.
If you want a non-alcoholic version, drink this spiced cider hot! You can garnish with an apple slice or cinnamon stick.
If you want a hot cider cocktail, combine 1C of hot spiced cider mixture and 2 oz of bourbon. Garnish with an apple slice or orange spiral.
Note: If you want to add some additional depth of flavor, you can add 100% cranberry juice to the cider mixture in step 1.
BONUS – How to freeze cider
Freezing cider is a great way to get to drink cider for the next several months, and it's super easy!
1. Open the jug of cider.
2. Pour out a small amount of cider so the level in the jug is now down at the bottom of the shoulder of the jug. This level should be about 1″ lower than it is in a full jug. This step is key because the cider will expand as it freezes, and a full jug will expand to the point it will pop off the cap or crack the jug.
3. Put the cap back on the jug.
4. Put the jug in the freezer.
The cider can be frozen for at least 6 months. It makes great summer cocktails!
To thaw, place the frozen cider jug in the refrigerator and let it thaw. We do not recommend letting it thaw at room temperature.